ABOUT US
Keighley Community Nursery is a not for profit organisation run by a voluntary management committee.
We are also a registered charity and were originally established in 1997 situated on Marlborough Street, to provide a community nursery that was accessible to all.
We currently offer a 70 place nursery which was opened in our existing location in 2004. We provide 12 places for children under 2 years old and over 58 places for over two's.
Please CLICK HERE to view our accreditations!
On this website you will find all the information you may need about our nursery, but should you want to discuss anything or require any more information, please feel free to contact:
Joanna Smith - Nursery Manager or
Naomi Thornton - Deputy Manager on
01535 600723 or 01535 665648
Or to see what our current parents think, please click here!
TUFF SPOT CHALLENGE!!
Week Three!!
Time is marching on here and the Tuff spots are coming thick and fast now!
Shannon introduced a plethora of natural resources for the children to explore and play with. Pebbles, bark, leaves and conkers to name but a few along with a cardboard tube to a whole different level!!
The children had a great time immersing themselves in this exciting natural play activity and learned a lot too!!!

It's was all about the bakes for Kayleigh's tuff spot activity this week and she provided a sweet treat activity for our youngest nursery children!! The babies investigated the different foods used for their baking activity as well as the utensils.
Not only did the children have a special treat to take home but they had great fun with this baking tuff spot activity!!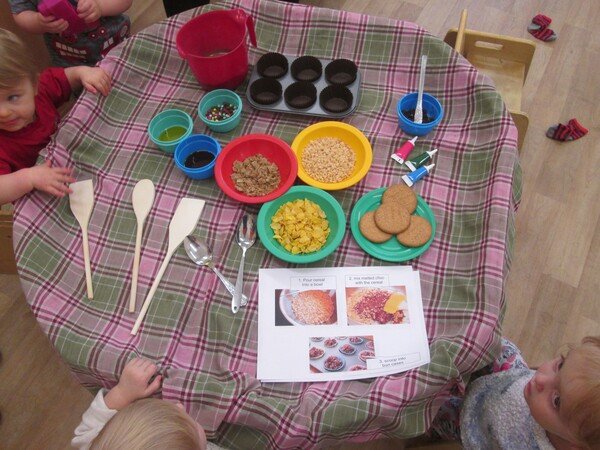 Two Tuff Spots will be added to our home page weekly and if you would like to look at all of them, just click on the more tab and select from the drop down menu!
The winners will be announced before Christmas!!
Don't miss us, come and join us!
We track children's attendance every week and from September 2016, every half term children with 100% attendance will be put in a draw to win a £10 voucher that can be used in Mothercare or the Early Learning Centre!
Winners will be displayed in the nursery entrance for bragging rights so get up, brave the weather and see if you can win.